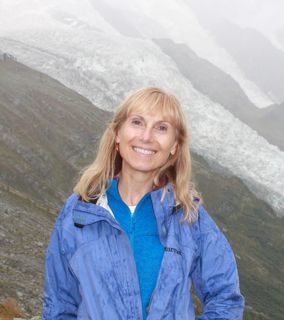 Colors have always fascinated me. I love the way they interact with each other, creating dramatic "colorscapes", changing the meaning of known shapes. I love their subtleties and intensities and the dialogues they suggest. I listen. Looking at my surrounding I imagine a world beyond our visual limitations. Microscopes have helped us see the amazing colors and shapes that our naked eyes can't see.
What if…A horse were blue? Would I change the color of the sky above it? I study the interactions of colors with shapes, colors with medium. I alter or change them like a chess player moves a chess piece on the board, trying to maintain balance yet pushing their boundaries.
I was born and raised in France and studied art first in high school then at "l' Ecole des Beaux Arts" in Grenoble. I went on to Grenoble's University and obtained a "Maîtrise" in Art History. The subject of my thesis was California artist Wayne Thiebaud's cityscapes and landscapes. Mr. Thiebaud's vision of the world and his use of colors became a great source of inspiration. I met with him twice.
Living in the Alps I became a climber and a mountaineer and my passion for the mountains became stronger than my desire to paint. I dedicated two decades of my life to exploring them. I wrote about them, drew them and photographed them.
I moved to Jackson, Wyoming in 1995, and started painting again in 1997. The Western culture, wildlife and landscape of the area became a great source of inspiration. I published a poster and note cards about the Wyoming symbol: the famous cowboy Stub Farlow riding his bronco. I presented it in a grid, added bright colors and a variation in each frame. I then painted a series of 13 Bison and a series of cowgirls. I went to rodeo grounds, Pow-wows, watched wildlife. My inspiration comes from direct observation.
I like to stylize my subjects, use vibrant colors or gold backgrounds to transform my subjects into icons or symbols. I believe colors, like music, create a language of rhythms and vibrant melodies.