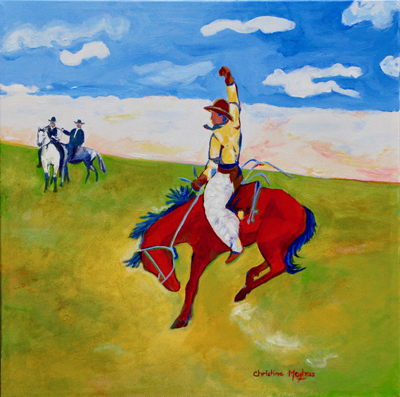 1909: "The Original Wyoming Cowboy" riding a bucking bronco "straight up."
My painting is inspired by the original photograph of a cowboy riding his bronco at the Cheyenne rodeo taken by a Union Pacific photographer named Stimson. The cowboy is Ed McCarty on his Wyoming native horse Silver City. The photograph was the source of inspiration for the Wyoming license plate design. The artist was Allen True, and Lester Hunt, then Wyoming secretary of State, was credited with the idea of a bronc rider. The image was reversed for probably legal reasons. In doing so the rider and his horse became a generic image and not the portrait of Mr McCarty who was from Goldsmith, Wyoming. He became a champion bronc rider in 1919.
I like the nostalgia of the surroundings with its empty open space. I added bright colors to anchor the memory.