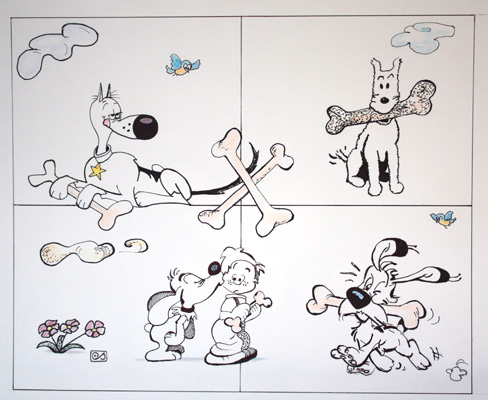 Cartoon Dogs and their Bones is about memories and the place dogs have in our hearts.
I thought of the dogs of my childhood and images of cartoon dogs came to my mind.
I grew up in France and loved reading bandes dessinées (cartoons.) In those cartoons, dogs were heroes. They solved problems, gave ideas and clues to their human friend, the cartoon hero, who could then find the solution to an impossible situation. Their adventures were amazing. They took place on different continents and in various times. For example stories might happen in Brittany when the Romans invaded Gaul or in the Himalayas or in the Far West after the Civil War. I loved those cartoon dogs. They were funny, clever and showed such a range of emotions without the help of words. They were my heroes. Their ultimate joy was to have a bone.
I asked four dogs from four different French cartoons of my childhood to meet me on a blank piece of paper. They all came with their bones. Their joy is apparent. They are from top left clockwise:
-Rantanplan in the cartoon Lucky Luck.
-Milou in Tintin et Milou
– Idéfix in Astérix et Obélix.
-And Boule in Boule et Bill
I drew Cartoon Dogs and their Bones with pens on Bristol paper and added light colors with colored pencils to evoke the nostalgia of childhood, in the same manner sepia toned or hand colored photograph evoke the past.
They are a tribute to our four legged companions who give us so much joy, and a tribute to the fantastic artists who drew them for our delight.